Available online: https://www.meted.ucar.edu/training_module.php?id=1002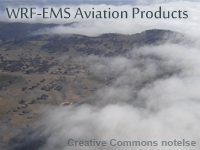 Published by:
The University Corporation for Atmospheric Research
; 2013
This lesson illustrates how numerical guidance from the Weather Research and Forecasting Model - Environmental Modeling System (WRF-EMS) can be added to surface observations, satellite graphics, and conceptual models of important aviation phenomena, to produce TAFs. Specifically, the lesson describes how visibility, cloud ceilings, and the flight categories variables provide values for aviation forecasts in Africa.
Language(s): English
Format:

Digital (Standard Copyright)
Tags: Weather forecasting ; Numerical weather prediction ; Lesson/ Tutorial ; NWP Skills and Knowledge for Operational Meteorologists
Add tag
No review, please log in to add yours !