Available online: https://www.meted.ucar.edu/training_module.php?id=569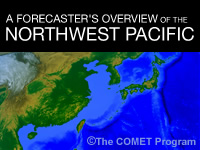 Published by:
The University Corporation for Atmospheric Research
; 2010
This module provides an introduction to the northwest Pacific for weather forecasters. It touches on major aspects of the geography, oceanography, and climatology. Geography looks at plate tectonics, topography, and human population. Oceanography examines ocean currents, coastal tidal ranges, and sea ice distribution. Climatology briefly discusses jets streams, distribution of synoptic features, storm tracks of tropical and extratropical cyclones, the fronts, and sensible weather associated with the Northeast and Southwest Monsoons.
Language(s): English
Format:

Digital (Standard Copyright)
Tags: Tropical cyclone ; Marine meteorology ; Climate services ; Lesson/ Tutorial ; Climatology ; Monsoon ; Sea ice ; Extratropical cyclone ; China ; Japan ; Yellow Sea ; Marine Weather Forecasters ; Competencies for Provision of Climate Services
Add tag
No review, please log in to add yours !