Available online: https://www.meted.ucar.edu/training_module.php?id=1427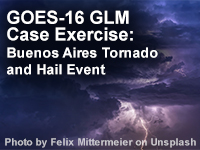 Published by:
The University Corporation for Atmospheric Research
; 2018
The Geostationary Lightning Mapper (GLM) flies aboard the GOES-R series satellites and provides lightning detection data at a quality and resolution not previously available from space. The GLM's continuous lightning monitoring capability is a valuable asset to detecting and monitoring developing thunderstorms 24 hours a day. This 30 minute lesson introduces learners to the benefits of using Geostationary Lightning Mapper (GLM) observations in assessing convection. Learners will explore a severe weather event near Buenos Aires, Argentina, and practice using GLM observations to determine initial convection, supplement other data tools in estimating tendencies in storm strength, and evaluate the potential for severe weather.
Language(s): English
Format:

Digital (Standard Copyright)
Tags: Weather forecasting ; Tornado ; Lesson/ Tutorial ; Hail ; Remote sensing ; Convection ; WMO Space Programme (SAT) ; Satellite Skills and Knowledge for Operational Meteorologists
Add tag
No review, please log in to add yours !