Available online: https://www.meted.ucar.edu/training_module.php?id=523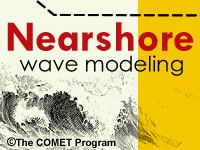 Published by:
The University Corporation for Atmospheric Research
; 2009
Ocean waves near shore impact public safety, commerce, navigation, and, of course recreation. Predicting these waves has driven efforts to model them for more than two decades. This module introduces forecasters to different nearshore wave models, including phase-resolving and 1- and 2-dimensional spectral models. It describes the processes that wave models simulate, the assumptions they make, the initial and boundary conditions required to run the models, and potential sources of error in model forecasts. While focusing on SWAN, the module also examines the Navy Standard surf Model and Bouss-2D.
Language(s): English
Format:

Digital (Free)
Tags: Marine meteorology ; Lesson/ Tutorial ; Marine Weather Forecasters
Add tag