Available online: https://www.meted.ucar.edu/instrumentation/performance_char/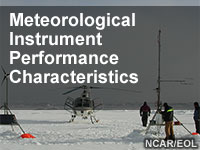 NCAR's Earth Observing Laboratory ; The COMET Program (Boulder, United States of America) ; Millersville University
Published by:
The University Corporation for Atmospheric Research (UCAR)
; 2017
This advanced lesson explores the performance characteristics of instrumentation used for meteorological measurements. Static performance characteristics are examined in the context of calibration, which offers a means to determine an instrument's response. Dynamic performance characteristics, including first and second order inputs, are discussed using three classic examples: step or impulse, ramp or time varying, and oscillatory inputs. The lesson provides information about the effects of representativeness and regional homogeneity on measurements, and also describes processes for obtaining quantitative estimates of uncertainty.
Notes: Requires user login with free registration. For non-commercial use.
Language(s): English
Format:

Digital (Free)
Tags: Observations ; Automated Weather Observing System (AWOS) ; Global Space-based Inter-Calibration System (GSICS) ; WMO Integrated Global Observing System (WIGOS) ; Meteorological instrument ; Climate ; Hydrometeorological instrument ; Instruments and Methods of Observation Programme (IMOP) ; OBS - Personnel performing meteorological observations ; OBS - Personnel managing observing programmes and networks