Available online: http://www.preventionweb.net/files/28922_28922optionsforincludingdisasterres.pdf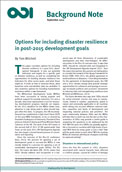 Published by:
ODI
; 2012
This Background Note discusses potential indicators and targets for including a specific goal on disaster resilience in the post-2015 development framework, as well as considering the opportunities for building disaster resilience into indicators for other sector goals, and what these might be.

It looks at how to measure these, what baselines exist and whether data are available. It also examines some of the opportunities and challenges, such as options for including humanitarian assistance within a new framework.

It concludes by setting out criteria that can be used to judge the utility of targets and indicators in whatever framing emerges for the post-2015 goals framework.
Language(s): English
Format:

Digital (Free)
Tags: Natural hazards ; Disaster Risk Management (DRM) ; Vulnerability
Add tag