Available online: http://ella.practicalaction.org/wp-content/uploads/files/111209_ENV_UrbEnvGov_BR [...]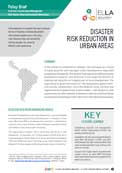 Published by:
Soluciones Prácticas - Oficina Regional para América Latina
; 2013
This document presents the disaster risk reduction (DRR) processes developed in several Latin American cities. It shows the benefits of making risk reduction an integral part of local development. It also highlights the importance of good information for risk assessment, government-civil society collaboration, and links between local, national and regional levels of government. It is intended to offer a wealth of lessons for African and South Asian counterparts embarking on their own urban risk reduction processes.


Language(s): English
Format:

Digital (Free)
Tags: Natural hazards ; Hazard risk assessment or analysis ; Multi-hazard Early Warning Systems (MHEWS) ; Urban zone ; Case/ Case study ; Latin America ; Region III - South America ; Region IV - North America, Central America and the Caribbean
Add tag