Available online: http://wellington.govt.nz/services/earthquake/pdfs/eq-strengthenhouse.pdf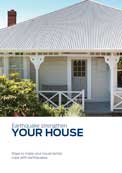 Published by:
Wellington City Council
; 2012
This guide explains the things that can be done to make a house in New Zealand more resilient to earthquakes. It describes the stresses that earthquakes place on houses, and some risk factors that might make a house more or less susceptible to damage. It also gives practical guidance on things a residential property owner can do to his house that may reduce the risk of damage in an earthquake.


Language(s): English
Format:

Digital (Free)
Tags: Natural hazards ; Disaster prevention and preparedness ; Earthquake ; Guide ; Non-specialist public ; New Zealand
Add tag