Available online: http://www.preventionweb.net/files/25378_adaptationcoalitiontoolkitbuildingc.pdf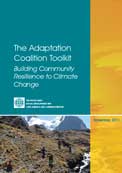 Published by:
World Bank
; 2011
This adaptation coalition toolkit was developed to promote the strategic empowerment of people by creating more inclusive, cohesive, and accountable societies in the face of climate change. Its purpose is to guide facilitating groups or teams of development practitioners in pursuing participatory collaboration with communities to research and implement adaptation coalitions to assist the locality in adapting to the local manifestations of climate change and facilitate the adaptation of vulnerable communities.
The framework for this toolkit was developed from testing its implementation over a two-year period in 24 Latin American case study communities in five countries. The results from this study are presented in the companion publication "Building community resilience to climate change: testing the adaptation coalition framework in Latin America" produced by the World Bank's Social Development Unit of the Latin America and Caribbean Region.

Language(s): English
Format:

Digital (Free)
Tags: Capacity development ; Climate ; Adaptation ; Climate change ; Case/ Case study ; Caribbean ; Region IV - North America, Central America and the Caribbean
Add tag