Available online: https://openknowledge.worldbank.org/handle/10986/26784?locale-attribute=fr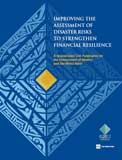 Global Facility for Disaster Reduction and Recovery, the ; World Bank ; Organization for Economic Co-operation and Development
Published by:
GFDRR
; 2012
This report – Avoiding Future Famines: Strengthening the Ecological Basis of Food Security through
Sustainable Food Systems - has been a unique collaboration of 12 leading scientists and
experts involved in world food systems including marine and inland fisheries.

The institutions involved include the UN Environment Programme, the International Fund
for Agricultural Development, the Food and Agricultural Organisation of the United Nations,
the World Bank, the World Food Programme and the World Resources Institute. The report provides
detailed analysis of the many factors threatening the world's food supplies and its ability to continue to generate calories and proteins in the 21st century including from fisheries. Yet it also provides a series of forward-looking recommendations and remedies to the many grim scenarios that often accompany the food security debate.
Language(s): English
Format:

Digital (Free)
Tags: Natural hazards ; Disaster management ; Economics ; Case/ Case study ; Earthquake ; Landslide ; Australia ; Argentina ; Brazil ; Chile ; China ; Colombia ; France ; Germany ; Italy ; Japan ; Republic of Korea ; Mexico ; Türkiye ; United Kingdom of Great Britain and Northern Ireland ; United States of America
Add tag