Available online: http://thf_media.s3.amazonaws.com/2012/pdf/sr108.pdf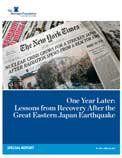 Published by:
Heritage Foundation, the
; 2012
This document presents the key lessons learned from a team of experts reassembled to evaluate Japan's long-term efforts to recover from the Great Eastern Japan Earthquake and to prepare for future catastrophes. Based on extensive literature and interviews with Japanese officials and experts, it identifies four critical areas that affect response to a catastrophe: (i) recovery and resiliency of critical infrastructure, (ii) environmental remediation, (iii) compensation and disaster assistance, and (iv) population resiliency. In each area, it makes key observations, determines findings, and develops recommendations for learning from Japan's experience.
Notes: Special report no 108, April 26, 2012
Language(s): English
Format:

Digital (Free)
Tags: Natural hazards ; Example/ Good practice ; Earthquake ; Disaster management ; Case/ Case study ; Japan
Add tag